Welcome to science class, fire fans! 🧑🏻‍🔬
Everyone pick a seat where you're most comfortable and let's better understand fire!
Fire is the most beautiful but deadly natural element. It literally controls life and death in its grip, destroying everything in its path, and from its ashes, new life can be born. We see this with the annual wildfires across the United States and Australia, where these fires "walk " hundreds of miles in a matter of hours, and engulf thousands of acres virtually overnight, yet from their carnage, these areas are restored naturally in years to come. We all use fire on a daily basis but how many of us really understand how profound this one element is?
Our understanding and subsequent control of fire is what jettisoned us up to the top of the food chain and allowed us to live wherever we wanted in the world. With fire, we can control light and heat, giving us an advantage over all animals since we can stay warm in the coldest of winters and see in the darkest of places. We can cook with it, sterilise drinking water, and still in parts of the world, it's responsible for powering our electric life. Fire is used to clear vast expanses of land for building or farming, enabling us to build more housing and create more agricultural business opportunities. In short, as much as we view fire as a destructive force of nature, it can be used in positive ways when handled with care.
So how does fire really work?
The most important aspect of fire safety is understanding how fires work. The Fire Triangle was developed as a simple and clear method to explain this. Fires need three things to ignite: fuel, oxygen and heat. Once you have all three, a chemical reaction occurs, and this is what a fire truly is: the chemical process of rapid combustion (or burning) using the oxidisation of a fuel source at a high temperature. The result is fire, smoke and destruction.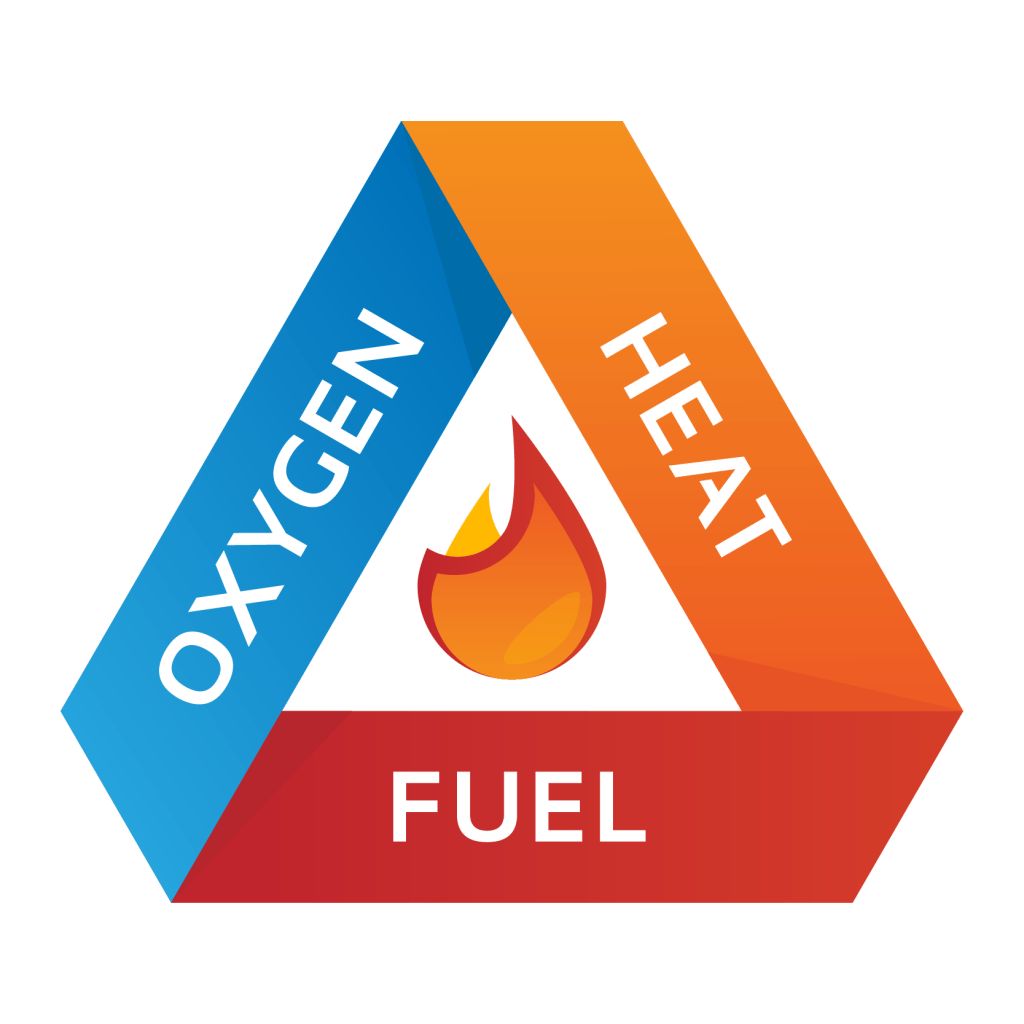 Fuel is the first key ingredient here, as you cannot have a fire without something to burn, so this is where we start. Fuel can be wood, paper, fabric or a flammable liquid such as oil, and some materials you didn't think of in your home or office can become fuel, such as wallpaper and carpet, if a fire has already ignited.
Heat is the next ingredient in our fire recipe, as heat will aid in igniting a fire and keep it burning. As a fuel is burning, heat will naturally occur and this will keep the fire going. While heat can be nice a cozy for an outdoor winter evening, it can help a fire destroy a building if it's not stopped. This is why for some fires, you have to kill the heat by dousing it in water, foam or other substances to suffocate the fire.
Oxygen is the last piece of the fire puzzle. A fire only really needs a small amount of oxygen to ignite and feed it, and while our atmosphere is only 21% oxygen, a fire only needs 16% to ignite and get to work.
Without all three elements present, it is unlikely for a fire to start. It's reported that roughly 20% of fires have a natural occurrence, such as from lightening or wildfires in dry climates, but that leaves a whopping 80% of fires caused through human activity, directly or indirectly. The more we understand about fires, the better our chances are to reduce the number of fires, and slow their spread. Learning more about how fires start, how each type of fire works and what fire extinguishers should be used, and having regular fire risk assessments performed at your building, office or home, you are one step closer to being fire smart. Remember to always look for fire protection companies that are third party accredited to guarantee they are qualified, competent, and work to the current standard upheld by the accreditation board.
Onetrace active and passive fire protection software is committed to educating the public more about fires and the fire industry. We believe the more we understand about fires and fire protection, we can reduce the number of fires started and increase our safety levels and reaction times should a blaze occur. Stay tuned to learn more about fires, how to stop them, and how to prevent them.
If you're interested in how Onetrace works, all you need to do is simply get in touch or request a demo. If you're not ready to commit or just want to have a quick peek, that's okay - you can try Onetrace completely free for 14 days with zero obligation or commitment. It's that simple.